For Press and Media Inquiries
To interview Jerry Porras, Stewart Emery, or Mark Thompson, please contact:

To download the Media Release on the book - Click here to download the book press release.
Biographies: Meet the Authors
Click below to see our biographies and download photos.

Mark Thompson
Co-author
photo 1 | photo 2
photo 3 - hi-res
Jerry Porras
Co-author
photo

Bonita Thompson
Research Director
photo
The Research
To download a PDF of the 38-page Research Highlights from the book click here.
An extraordinary team of researchers were involved with the development of Success Built to Last. We've included just the leadership group here, including Howard Moskowitz (Ph.D., Harvard); Yoram Wind (Ph.D, Stanford); Bonita Thompson (MBA, UC Berkeley); Jerry Porras (Ph.D., UCLA); Mark Thompson (MA, Stanford).

Bonita Thompson
Director of Research

Howard Moskowitz
President
Moskowitz Jacobs, Inc.

Prof. Yoram Wind
The Wharton School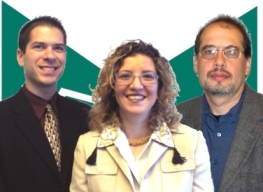 Pictured in the photo (from left to right) is Chris Pomponi, Rachel Katz, and Alex Gofman.
We would also like to thank Charles Loesch, Director of Research at FiSite Research, Barbara Itty, Rachel Katz, Chris Pomponi, and Alex Gofman of the i-Novation division of Moskowitz Jacobs.